The World's Biggest Collection
of Broadway Show Tune Standards
(for less than $0.07 per song)
This is the definitive collection of Broadway music
including hundreds of selections that have been inducted in
The Great American Songbook
plus the best show tune contributors from 'across the pond'

Broadway Show Tunes, what would we do without them? Theater people love them, jazz people love them, cabaret singers love them, and they even frequently find their way into the pop, rock, and country music hit parade!
From Barbra Striesand

to The Beatles

to Willie Nelson

to John Coltrane

to Charlie Parker

to Rod Stewart

to Billie Holiday

to Paul McCartney

to Stan Getz

to Ella Fitzgerald

to Diana Krall

to Sting

to Blossom Dearie

to Carly Simon

to Tony Bennett

to Jane Monheit

to Bryan Ferry

to Linda Ronstadt

to Dean Martin

to Pat Benetar

to Natalie Cole

to Nancy Wilson

to Bette Midler

to Frank Sinatra

to Johnny Mathis

to Ringo Starr

to Keely Smith

and even to Keith Richards

everbody plays show tunes.
In addition, Broadway shows have been built around rock era giants like ABBA, The Four Seasons, Billy Joel, and many others.
This fifth edition has been completely revised and now includes over 820 standards from 260 shows. Perfect for professional gigging musicians or hobbyists who simply want all their favorites in one collection!
The list of composers and lyricists reads like a Who's Who of Musical Theater and most are contributors toThe Great American Songbook:
Lee Adams

Harold Arlen

Burt Bacharach

The Bee Gees

Irving Berlin

Leonard Bernstein

Don Black

Jerry Bock

Leslie Bricusse

Mel Brooks

Lew Brown

Sammy Cahn

Truman Capote

Martin Carnin

George M. Cohan

Cy Coleman

Phil Collins

Betty Comden

Noel Coward

Bob Crewe

Hal David

B.G. DeSylva

Fred Ebb

T.S. Eliot

Duke Ellington

Sammy Fain

Dorothy Fields

George Forrest

Ira Gasman

Bob Gaudio

Noel Gay

George Gershwin

Ira Gershwin

Adolph Green

Marvin Hamlisch

Oscar Hammerstein II

Otto Harbach

E.Y. "Yip" Harburg

Sheldon Harnick

Lorenz Hart

Ray Henderson

Jerry Herman

Rupert Holmes

Eric Idle

Billy Joel

Elton John

Tom Jones

Gus Kahn

John Kander

Jerome Kern

Burton Lane

Jerry Leiber

Carolyn Leigh

Alan Jay Lerner

Andrew Lloyd Webber

Frank Loesser

Frederick Loewe

Henry Mancini

Alan Menken

Johnny Mercer

Bob Merrill

Roger Miller

Irving Mills

Anthony Newley

Trevor Nunn

Cole Porter

Tim Rice

Richard Rodgers

Harold Rome

Carole Bayer Sager

Claude-Michel Schönberg

Stephen Schwartz

Duncan Sheik

Stephen Sondheim

Richard Stilgoe

Mike Stoller

Jule Style

Thomas "Fats" Waller

Kurt Weill

George Weiss

Meredith Wilson

David Yazbek

David Zippel

and many, many more!
And the list of shows reads like a listing of Broadway's Greatest Hits:
Aida

Ain't Misbehavin'

Annie

Annie Get Your Gun

Aspects Of Love

Avenue Q

Babes In Arms

Barnum

Beauty And The Beast

Bells Are Ringing

Big River

They Boys From Syracuse

Bye Bye Birdie

Cabaret

Camelot

Can-Can

Carousel

Cats

Chess

Chicago

A Chorus Line

City Of Angels

The Color Purple

Company

A Connecticut Yankee

Curtains

Dirty Rotten Scoundrels

Do I Hear A Waltz

Dreamgirls

The Drowsy Chaperone

Evita

The Fantasticks

Fiddler On The Roof

Finian's Rainbow

Fiorello!

Flower Drum Song

Follies

Footloose

Funny Girl

A Funny Thing Happened On The Way To The Forum

George M!

Gigi

Godspell

Grease

Grey Gardens

Guys And Dolls

Gypsy

Hairspray

Hello Dolly!

Jeckyll And Hyde

Jersey Boys

Jesus Christ Superstar

Joseph And The Amazing Technicolor Dreamcoat

Jumbo

The King And I

Kismet

Kiss Me, Kate

La Cage Aux Folles

Les Misèrables

The Light In The Piazza

The Lion King

The Little Mermaid

Mamma Mia!

Mame

Man Of La Mancha

Mary Poppins

Me And My Girl

Miss Saigon

Monty Python's Spamalot

Movin' Out

The Music Man

My Fair Lady

Oklahoma!

Oliver!

On A Clear Day You Can See Forever

On Your Toes

Paint Your Wagon

Pal Joey

Peter Pan

The Phantom Of The Opera

The Pirate Queen

The Producers

Promises Promises

Rent

Red Hot And Blue

The Roar Of The Greasepaint-The Smell Of The Crowd

Saturday Night Fever

Show Boat

Smokey Joe's Cafe

Sophisticated Ladies

The Sound Of Music

South Pacific

Spring Awakening

Starlight Express

State Fair

Stop The World-I Want To Get Off

Sunset Boulevard

Sweet Charity

Tarzan

Thoroughly Moddrn Millie

Victon/Victoria

Wicked

The Will Rogers Follies

Young Frankenstein

Zigfeld Follies of 1919

Zigfield Follies of 1936

Zorba

and over 100 more shows!
Most of the tunes the gigging jazz musician plays come from showtunes, but few jazz musicians are willing to openly come out and say, "I play showtunes." ... To jazz performers looking for those undertapped standards missed in the Real Books, this disk/book is a gem. ... To vocalists, cabaret performers and working piano lounge players consider this a lifetime repoitoire that can fit in a computer. ... To rock and country musicians who want to update a standard, this is a gold mine.
If you like Broadway Show Tunes, if you like Pop Standards, if you like "The American Songbook" tunes, if you like the British Imports, if you like pop music at all, you'll love this disk and book!
Just browse the song list in the right hand column to see the song titles contained in this book/disk!



I also suggested a style for each song from all the styles that were available for Band-in-a-Box when I compiled this disk. The styles were chosen to closely resmble the original play (as close as possible in Band-in-a-Box). It is not necessary to have the book or my styles to enjoy this disk, but your fun will definitely be enhanced if you do.

The Fine Print: This disk is GUARANTEED to work with Band-in-a-Box • In the unlikely event the product is defective or gets corrupted during delivery, it will be replaced. • The melody and lyrics to each song are included in the optional Fake BOOKS. • All copyrights are honored and royalties paid to the copyright holders. • It is important to note that all Norton Music Fake DISKS contain chord progressions only... There are no copyrighted melodies or lyrics on the Fake DISKS. The song titles are used only to identify a particular chord progression. • The song titles used are not the only songs to share any particular chord progression but conservation of space limits me to listing only one title per chord progression. • The degree of compatibility of the songs with the currently available styles for Band-in-a-Box varies. • There are no user styles in any of the fake disks either by PG Music (the creators of Band-in-a-Box) or by Norton Music. • As is typical in the software industry, all sales are final.
Add this disk to your cart...
Norton Music's Fake Disk #29
for Band-in-a-Box
Requires version 5 or higher of Band-in-a-Box
Optimized for version 2004 and up
Only $54.99 ...
And you can SAVE up to $7.00 Per Disk
Click here for discount information
or here for instant E-delivery details

For all Windows and Mac Versions of Band-in-a-Box
PC and Mac downloads are zip compressed for fast delivery
• All credit card purchases get automatic, instant e-delivery
• and all files are certified virus-free for your protection

Get The Compatible Book Here
(Book Only • buy the disk in the box above)

The Ultimate Broadway Fake Book - 5th Edition


Hal Leonard

Amazon has one of the lowest prices I've found and
most books can be shipped free (with a minimum purchase)

Click The Link To The Right


It will open in a new window ()

IMPORTANT: Be sure to buy a new (not used) book as there are many different editions of most fake books. The Norton Music fake disk is compatible only with most recent edition of the fake book. If you buy an used, older edition, all the songs in the disk will not match the songs in the book.


The Ultimate Broadway
Fake Book
... and put a Better Band in your Box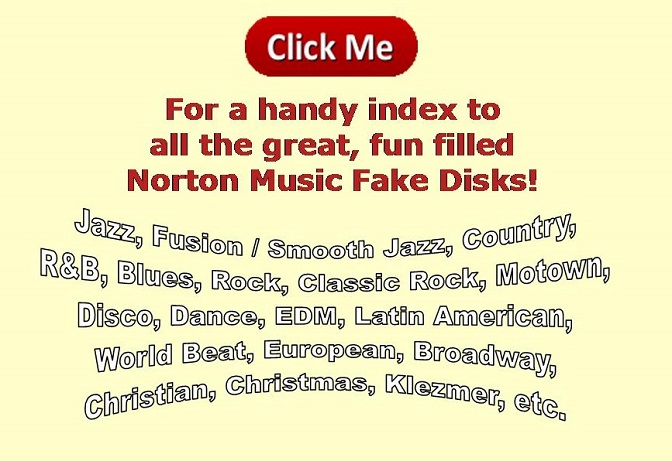 ---
Browse the song list in the right hand column to see the song titles contained in this book/disk!






---
● "The (Norton Music) Style Disks are a good buy. Many of them do a great job of showing off Band-In-A-Box's capabilities, and one of them just might give you an idea for that next million dollar song." - Electronic Musician Magazine
● "I bought a disk and some individual styles from "Notes". They really are as good as the Real styles. Not sure how he does it." Erik Hansen (Posted on the Yahoo Band-in-a-Box group.)
● "Bob, I purchased three of your newly released fake books. I would like let you know how much enjoyment I am getting from them. They are a bargain. For the work you guys put into them it is hard to believe. The style selection and arrangements are excellent. One song is worth the price of the software. I have purchased many fake books from you over the years, these are great. Keep up good work,thanks." - Tony Difurio
● "Thanks for the great work you do! I've used many of PG Music's styles as well as yours in creating our backing tracks and find yours bring them to life much more easily and with much less tweaking." - Mike Dustan, Maple Ridge, BC, Canada
● "We feel fortunate that someone on the BIAB forum suggested your fake book disks to us. For amateur musicians, you and your wife provide a very valuable service and quality product that is very useful. You have been very kind and patient in answering our simplistic questions. The end result is that we are able to bring a little cheer to the folks in retirement homes and hospitals. It's incredible that some who may have not spoken for months begin to sing some song that they recognize. We look around and many are smiling and tapping their hands or feet. This is the payment that we receive and we are very thankful for it. I wish more "senior" musicians would perform some tunes for the infirmed folks." - Stan Smith - Redding CA
● "I decided to check out your styles disks, because everyone in the user group was "talking about them. WOW! I listened to your samples and what a difference they are from the standard BIAB styles. ...Your styles are GREAT! Fantastic! Creative! Outstanding! -- I can't come up with enough superlatives to describe them. Thank you for taking the time to create them and for sharing them with others! - Alice Bartley" - Renton WA
● "Happy to report that I was able to download to disk and then had no trouble getting it installed in BIAB. Have made tapes of several tunes and am playing over the wonderful backups with my cello or clarinet at many of the convelescent facilities I "teach" my adult education classes in "Adventures in Music." Thrilled with your tasty backkups and appreciate variations in second choruses etc. - Dave Walter - Livermore CA
● "I just wanted to let you know that I've been very happy with having all of these new styles available. I've been using them in most of the new files I've made and just wish that I would have bought them a couple of years ago." - Debra Ackley - Potterville MI
● Thanks you so much for the quick follow-up with my order. Was afraid I would have to wait a couple of days for the email delivery. Your excellent customer service and prompt delivery is very much appreciated. Have already spent a few hours playing with (guitar) the styles and demo songs you provided. Very high quality stuff. They are just what I needed to help get me 'out of the box' and on to the next level of playing. - Frederick S. Fahrner Jr. - Santa Cruz CA
● I received the styles and I love them! They were everything that I expected and more. - Nick Conley - Redwood City CA
● "I just installed your Christmas Fake Book songs and style disk #3 on my Mac. Actually, that's not quite true - I installed them about 10:30 or 11, and have been playing along with them for the past 4 hours. Before I head off to catch a few hours sleep, I just wanted to let you know how much I've enjoyed the songs and what a great job you did with the styles. I know you've probably heard it before, but thanks for the great job!" - Rob Fish - Powell, Ohio
● Your style files are exellent! I am very pleased to listen your many styles. They will give me many many inspirations for me composing music or writing songs. - Mitsuru Yamazaki - Tokyo Japan
● I am compelled to write and let you know how much I am enjoying using your BB add on products. The care and musicality of their development has allowed me to take my compositions to new levels. Please continue developing new products!! The world (and hopefully your wallet) will thank you. Sincerely, Peter B. Bergman Production Manager Catsong Studio
● "Before I found Norton Styles I had no life. Now I still have no life, but at least there's a great soundtrack!" - Steve Cox, Memphis, TN
● "The fake book and disk are super ... I had a great time putting together some dance music in preparation for the fall season. The same cannot be said of many products, but yours really did deliver more than had been promised. Thanks a bunch." Brian Cavanagh - cavanaly@____.___
● "Just want to drop you a note about the new styles. The are terrific! These are you best yet. Everything has a full realistic sound. There is a style that works in almost everything I'm doing and they knock me out. ... They are a must for anyone who uses BIAB" - Mike Deeson - Tampa FL
● "...Thanks for a great product!" - Wayne Bollinger - Cary NC
● "Just wanted to drop you a note to say how much I enjoy your style disks. I had previously purchased 2 of your style disks. Within a week or two I found that they were the ones I ended up using 9 times out of 10. So I just bought a bunch more. You should warn people that your style disks are like drugs -- once you get a little, you're hooked! :)" - Dan Thomas - Placentia CA
● "As I am typing this note, I am listening to a BIAB melody which came from a relatively random assignment of chords and one of your styles. It doesn't feel like midi at all, but rather as if I had tapped into some internet radio station broadcasting a live concert of real musicians." - Henry Lefkowitz - Columbia MD
● "Both disks are installed and work properly. Great job, they sound very professional. Bravo!" - C. Miville Bois - Ville d'Anjou PC Canada
● "Thank you very much for the e mail delivery of my order for Norton Styles ... Wow!! that's a great way for delivery - everything done in less than a day. I'm already enjoying your styles having tried many of them out - it feels like Christmas time and it's most exciting to see all your new ideas... Thank you very much for all the fun and satisfaction that your programs bring. The style picker window update download is fabulous . Now I can see all your styles on the screen instead of having to go to your documentation - which is excellent too by the way." - John Potts - Elmvale, ON Canada
● "Everything is now cool - what great work! My very brief perusal was gratifying - can hardly wait for school to be out so I can really get into the new styles you wrote." - Dave Murray - Valley Center CA
● "I have tried out some of the files, and I must say that I am very satisfied... I shall use them for "Look up notes" in a Blues project I am working with now for a friend of mine, who are a Good Blues singer. It is also very helpful for the musicians who shall play on the project to have some ground to stand on. Without the work you have done here, this would have taken much more time. I am there for just glad, to also could pay for the work you have done here." - Bjørn Pedersen - Tromso Norway
● "I had a very brief chance to listen to a few of the files. Great work! makes even a cheap soundcard sound 100% better." - Mark Andrews - Hunt Valley MD
● "Everythings are OK and the new styles are installed. I can only say: ALL THE STYLES ARE REALLY GOOD AND PROFESSIONAL. Million times better than BIAB original." - Erkki Viinikka - Espoo Finland
● "Very nice styles that do offer something that is not redundant with PG styles." - Jeff Holman - Roseville MN
● "I had a very brief chance to listen to a few of the files. Great work! makes even a cheap soundcard sound 100% better. Now I'll have to save up to complete my set." - Mark Andrews - Springfield, MA
● "Whooooaaaaah Bob! You are a 'get-down' rocker for sure :) ... I really, truly, like your style disks ... they're so much better than PG's 'fluff'n stuff' - there's hope for BiaB with help from you! The fake book is too much for me to assimilate yet, but the songs I tried worked great." - Walter Hanna, Fallbrook, CA
● "Hello, received the download and everything is working great. I look forward to ordering more of your product. ... I was very impressed with your Styles Disk #10, and as I said before I look forward to ordering more of your products. Thank You." - Santiago Rodriguez, Riverside, CA
● "Just a note that I did get the download and it's working great. ... I love it, and I don't see how any musician can live without this." - Celeste Thurston, Baltimore, MD
● "... They are everything you advertise and more! Believe me when I say I'll be coming back from time to time 'til I get them all!! Thanks so much." - Don Gradin, Eldridge IA
● "Thanks! The styles are installed...they work...and, on the off-chance you hadn't noticed yourself, they're richer and generally more elegant than the BiaB styles pgmusic has." - M.R., Marco Island, FL
● "By the way, your styles are great. It's like eating a potato chip. You can't just stop by buying only one. I had to have them all." - Tony Sumy, Pittsfield, MA
● "Your styles definitely bring BB tracks up to a more professional level." - Keith Burrows - kburrows@____.net
● "You never cease to amaze me in your style creations. When you think of how many thousands there are, you still come up with very unique sounds." - Mel Webb, Las Vegas, NV
● "These styles are 'saucy and enchanting!' They really do expand the offerings in your collection and the jazz buffs are going to love the subtle extras you have all over the place, especially in percussion." - Steve Cox, Memphis TN
● "In case I haven't said it before, thanks for all of the work you have put into you BIAB products. My musical career would not be what is today without your excellent products." - Edgar L. Wade, pookey@___.net
● "I received it Saturday and it is even more than I hoped for. Thanks a lot for the convenience and promptness of this transaction!" - Jerry D. Ward, wards003@___.net
● "For those of us without the time or ability to setup new styles these are a Godsend." - danf@___.com
● "I just wanted to respond and say how much I appreciate the personal interest you've taken in me as a customer. I'm so impresed that I made sure to write this right away. ... Nowadays it is very rare to find business people who take genuine interest in their clients and customers. To put yourself in your clients shoes is a very admirable quality. ... Once again I would like to thank you and praise your business ethics. There should be more people like you. I look forward to making my next purchase from you knowing that I'll receive a good product and excellent service. Sincerely, ~ Don Barayuga" - donafied@....
● "Thanks for making Band-in-a-Box even more fun." - Scott Mansfield, Enumclaw WA
● "The (style) files were fine .. I now have amazing reggae versions of summertime .. and a wonderful funky Lover Man .. You did a great job .. thanks" - Robin and Judy Hobbes, Altrincham, England
● "Your new style disk was so good it kept me up to 3am!!!" - George Wooding ~ wooding@___.com
● "I really appreciate the time and effort you put into entering all those songs into Band in a Box. And I like the prompt way you replied to my order. After I spend a while playing with these songs, I will need to try some of your other products. Thanks again." - Harold "Hal" Knippenberg - Augusta, Ga
● "It is wonderfully refreshing to find that your musical enterprise, Norton Music, makes sure that customer satisfaction is indeed a top priority ... I will definitely let anyone that I know -- those who share our similar musical interests -- about your wide variety of services and products." - Marty Schwartz, Sherman Oaks, CA
● "Felicitations! Magnifique travail!" - Jean-Daniel Bercher - Switzerland
● "...Very well done!" - Dennis Breuner - San Diego, CA
● "I was pleasantly surprised Band-In-A-Box could sound as good as your styles made it." - Aeron Carre - Vancouver, Canada
● "You've added more enjoyment to my favorite computer program." - Michael Deeson - Tampa FL
● "...I must say I am really impressed by the quality of your Band-in-a-Box styles and I am looking forward to using your fake disk and book by playing the 'oldies' on my guitar accompanied by the computer band...your disk will certainly add a lot !" - J.P. de Hoog - The Netherlands
● "...You've created some really groovy material to work with..." - Virgil Dugger - N. Charleston, SC
● "Nice work, Bob!" - Stan Haywood - The Netherlands
● "We are using your styles - they work - good punch!" - H. Holmes - Palm Bch. Gardens, FL
● "Great Styles - real stuff I can use." - Rick Hubbard - Hilton Head, SC
● "I get compliments every time I play somewhere, and I give you credit." - John Keel - Davison, MI
● "They are superb...just a terrific job..." - Norman Krygier - West Seneca, NY
● "Even my wife likes my tunes now!" - David Norris-Elye - Toronto, Canada
● "Your styles disk boosts Band-In-A-Box to higher planes of usefulness." - John Rembetski - Austin, TX
● "...It helps me build my career." - M.J. Vedros - Alexandria, LA
● "Excellent styles, crisp & clear, live feel!" - Mel Webb - Las Vegas, NV (Winner of America Online's TOP 10 MIDI file authors award)
● "What can I say? Great stuff again, Bob! You've never disappointed me yet. Your styles are very alive; keep going!" - jp.de.hoog@____.___
● "Hi, I just received the syles disks which I ordered from you and am VERY impressed by their professionalism and versatility." - brtubb@____.___
● "Bonjour Bob: Holy smoke! What a variety of top quality styles! There is not a single one that I don't like. Are you by any chance like French wine, that is "the older the better"? I for one one definitely think so..." ~ Jean-Louis Belard, Morgantown WV
● "My favorite Birthday present this year? A Bob Norton styles disk for my Band-In-The-Box program. Your styles disks bring the sounds generated by Band-In-The-Box to a new level. Canned music without the can. As a composer and a musician, I find that I am pleased with the sounds that come out. I just wanted to take a moment to thank you for taking the time to put your musical expertise into a form that can be utilized by others . . . and especially me. Thanks!" - John Carlile - isadora@...net
● "Thanks for good user style-disks... By using BIAB disks and your disks, I am able, for the first time in my life, to play good music by myself. - Ng Tian Khean - SINGAPORE
● "...it was super! It's amazing what you can do with your aftermarket styles in only 5 minutes. It's no surprise that yours are widely recognized as the best!!" - GaryW0001@....com
● "...and EVERYONE WHO HAS Band-In-A-Box SHOULD ALSO HAVE THOSE THIRD PARTY, NORTON MUSIC USER STYLES!!! They make a good thing (BIAB) even better. Much better. You can even gig with these styles. I answered his ad on AOL (screen name NotesNortn) and was I glad I did. They are the icing on the cake." - semitone@____.___
● "Ditto to the accolades for Norton Music's BIAB vaccine. I just got the new styles disk #4 and it's another winner. I started out on disk #1 and haven't missed one yet..." - JamesRocks@____.___
● "As usual, you have done a great job. These are real winners and may be the best disc you've done yet! I think these styles will be real helpful for any songwriters like me or performing musciains who are doing country or pop music...." - MikeD31851@____.___
● "Just a note to say thank you very much. I received the User Style disks this morning, installed them into BB and WOW! What an improvement on PG Music's styles, especially connected to the Roland JV 1080 sound module. I'm really itching to work with it, but it will have to wait 'till tomorrow. And from next week I'm on leave, so you'll know where to find me. Thank's once again for your prompt service. Give me time to work through this lot and then I'll place an order for the other disks." - eddie.goldberg.recording.studio@____.___
● "Norton gives us what Band In The Box needs most; styles that jump 'OUT of the box' and into your imagination!" ~ Steve Cox, Memphis, TN
● "In fact I will be recommending [in my new book] that people not even use Band-In-In-A-Box UNLESS THEY USE YOUR STYLES WITH IT! I'm not sure how you do it, but you make an average program turn into one on the "honor roll"! if you know what I mean. (I don't mean to say that all of PG's stuff is bad. They do hit a good style here & there.(jazz styles etc...)... but any musician that's honest would have to say that a lot of it is "square"). Your styles give it a more realistic, "live" feel.... thus the name of the program should then be changed to A-REAL-BAND-OUT-OF-THE-BOX"---- Maybe you should advertise.... "Is it LIVE...or is it NORTON? Guess that's already taken...Just a thought." ~ Keith Burrows - Trumpet Sound Music Productions - Terre Haute, IN
● "I just installed your styles and they work very nice. I just have to tell you that I couldn't imagine that Band-in-a-Box could sound like that. It's a great pleasure to work with these sounds." - Alfred Niederhofer, Regensburg, Germany
● "Thank you very much for your kindness in the middle of Christmas. I am really satisfied with these new styles, and my fake books are starting to really work as they should. I also have to say that I am very impressed over the work you have done with it, and I'm really looking forward to start to work with it in my studio. Not so very long time from now I will buy the rest of them, because I think they work perfectly as a back up for my artists. They sound right." Best regards from Bjørn "Worse" Pedersen
● "...meanwhile I had the time to listen to all the new styles I bought last week. They are marvelous!!! Thanks a lot! Ulrich Maier - Email: CUMaier@____.___
● "Everythings are OK and the new "superstyles" are installed. I must say, that your styles are the best ever made for BIAB. I really like them." ~ Erkki Viinikka - Espoo Finland
● "... Also, have had a chance to quickly go through the styles, and they sound GREAT. Thanks a lot!" - Darcy Brand - Calgary AB Canada
● "Thanks very much your styles are very good. will be ordering more soon." - Kevin Ryan - Victoria BC Canada

Here are the titles of all of the tunes contained in this disk and/or book:
"Linked" titles are free samples and are exactly as they appear in the fake disk.
A
• Accident Waiting To Happen
• The Ad-dressing Of Cats
• Adelaide's Lament
• Ain't Misbehavin'
• All At Once You Love Her
• All For The Best
• All Good Gifts
• All I Ask Of You
• All I Need Is The Girl
• All Of You
• All The Things You Are
• Allez-Vous-En, Go Away
• Almost Paradise
• Alone At The Drive-In Movie
• Along Came Bialy
• Always True To You In My Fashion
• Anatevka
• And All That Jazz
• And I Am Telling You I'm Not Going
• Angel Of Music
• Another Hundred People
• Another Op'nin', Another Show
• Another Suitcase In Another Hall
• Another Winter In A Summer Town
• Anthem
• Any Dream Will Do
• Any Place I Hang My Hat Is Home
• Anyone Can Whistle
• Anyone Would Love You
• Anything You Can Do
• Applause
• Are You Havin' Any Fun?
• Artificial Flowers
• As If We Never Said Goodbye
• As Long As He Needs Me
• As Once I Loved You
• Astonishing
• At Long Last Love
• At The Ballet
B
• Baby Dream Your Dream
• Bali Ha'i
• The Ballad Of The Sad Young Men
• Baubles, Bangles And Beads
• Be Kind To Your Parents
• Be Our Guest
• Beauty And The Beast
• Beauty School Dropout
• Beethoven Day
• Before The Parade Passes By
• Being Alive
• Bells Are Ringing
• The Best Of Times
• The Best Things In Life Are Free
• Bewitched
• Big-Ass Rock
• Big D
• Big Dog
• Big Girls Don't Cry
• Big Spender
• Bill
• (What Did I Do To Be So) Black And Blue
• Bloody Mary
• The Blue Room
• Blue Skies
• Breeze Off The River
• Bring Him Home
• Broadway Baby
• Brotherhood Of Man
• Brush Up Your Shakespeare
• Buckle Down, Winsocki
• Buenos Aires
• A Bushel And A Peck
• Bustopher Jones: The Cat About Town
• Button Up Your Overcoat
• By My Side
• By Myself
• Bye Bye Baby
C
• C'est Magnifique
• C'est Moi
• Cabaret
• Camelot
• Can You Feel The Love Tonight
• Can't Help Lovin' Dat Man
• Capped Teeth And Caesar Salad
• Caravan
• Castle On A Cloud
• A Change In Me
• Cherry Pies Ought To Be You
• Children Of The Wind
• Chim Chim Cher-ee
• Circle Of Life
• City Lights
• Civilization (Bongo, Bongo, Bongo)
• Class
• Climb Ev'ry Mountain
• Close As Pages In A Book
• Close Every Door
• A Cockeyed Optimist
• Cocoanut Sweet
• Coffee (In A Cardboard Cup)
• Coffee Shop Nights
• The Color Purple
• The Colors Of My Life
• Come Back To Me
• Come Back With The Same Look In Your Eyes
• C'mon Everybody
• Come Rain Or Come Shine
• Comedy Tonight
• Company
• Consider Yourself
• Could I Leave You?
D
• Dance: Ten; Looks: Three
• Dancing On The Ceiling
• Dancing Queen
• Dancing Through Life
• Darn It, Baby, That's Love
• Day By Day
• Dear Friend
• December 1963 (Oh, What A Night)
• Deep Love
• Diamonds Are A Girl's Best Friend
• Dites-Moi (Tell Me Why)
• Do I Hear A Waltz?
• Do I Love You Because You're Beautiful?
• Do It Again
• Do-Re-Mi
• Do You Hear The People Sing?
• Do You Love Me?
• Doin' What Comes Natur'lly
• Don't Cry For Me Argentina
• Don't Cry Out Loud (We Don't Cry Out Loud)
• Don't Ever Leave Me
• Don't Get Around Much Anymore
• Don't Like Goodbyes
• Don't Rain On My Parade
• Don't Tell Mama
• Down In The Depths (On The Ninetieth Floor)
• Down With Love
• Dreamgirls
• Drink With Me (To Days Gone By)
• Dulcinea
E
• Easter Parade
• Easy Street
• Edelweiss
• Elaborate Lives
• Empty Chairs At Empty Tables
• Engine Of Love
• Ev'ry Time We Say Goodbye
• Everybody Ought To Have A Maid
• Everybody's Got A Home But Me
• Ev'rything I've Got
• Everything's Alright
• Everything's Coming Up Roses
F
• Fable
• Falling In Love With Love
• Fanny
• Fantasies Come True
• Far From The Home I Love
• The Farmer And The Cowman
• Fathers And Sons
• Feed The Birds
• A Fellow Needs A Girl
• Fiddler On The Roof
• Find Your Grail
• Follow Your Heart
• Footloose
• For Good
• Forget About The Boy
• Forty-Five Minutes From Broadway
• Freedom
• Friendship
• From This Moment On
G
• Gary, Indiana
• The Gentleman Is A Dope
• Gentleman Jimmy
• Get Me To The Church On Time
• Get Out Of Town
• Getting To Know You
• Gigi
• The Girl That I Marry
• The Girl Who Has Everything
• Give A Little Whistle And I'll Be There
• Give My Regards To Broadway
• Give Them What They Want
• Glad To Be Unhappy
• Gonna Build A Mountain
• Good Morning Baltimore
• Goodnight, My Someone... Got A Date With An Angel
• Greased Lightnin'
• Great Big Stuff
• Guys And Dolls
H
• Haben Sie Gehort Das Deutsche Band? (Have You Ever Heard The German Band?)
• Hakuna Matata
• Handful Of Keys
• Happy Talk
• The Happy Time
• Hard Candy Christmas
• Harrigan
• Haunted Heart
• Have You Met Miss Jones?
• He Plays The Violin
• He Was Too Good To Me
• He's No Good
• Heat Wave
• Heaven Help My Heart
• Heaven On Their Minds
• Hello, Dolly!
• Hello, Young Lovers
• Here I Am
• Here I'll Stay
• Here On This Night
• Hey, Look Me Over
• Hey There, Good Times
• High Flying, Adored
• His Name Is Lancelot
• Hit Me With A Hot Note
• Holding Out For A Hero
• Home
• Honey Bun
• Honeysuckle Rose
• Hosanna
• The Hostess With The Mostes' On The Ball
• House Of Flowers
• How Are Things In Glocca Morra
• How Deep Is Your Love
• How High The Moon
• How To Handle A Woman
• A Hundred Million Miracles
I
• I Ain't Down Yet
• I Am Aldolpho
• I Am In Love
• I Am Loved
• I Am The Starlight
• I Believe In You
• I Believe My Heart
• I Cain't Say No
• I Can Do That
• I Can Dream, Can't I?
• I Can Hear The Bells
• I Can't Get Started With You
• I Can't Give You Anything But Love
• I Can't Stand Still
• I Could Be Happy With You
• I Could Have Danced All Night
• I Could Write A Book
• I Didn't Know What Time It Was
• I Do Not Know A Day I Did Not Love You
• I Don't Know How To Love Him
• I Dreamed A Dream
• I Enjoy Being A Girl
• I Go To Rio
• I Got Lost In His Arms
• I Got The Sun In The Morning
• I Guess I'll Hang My Tears Out To Dry
• I Hate Men
• I Have Dreamed
• I Know Him So Well
• I Like Your Style
• I Love A Piano
• I Love My Wife
• I Love Paris
• I Love You
• I Loved You Once In Silence
• I Miss The Music
• I Only Want To Say (Gethsemane)
• I Remember It Well
• I Remember Love
• I See Your Face Before Me
• I Still Believe In Love
• I Still Get Jealous
• I Still See Elisa
• I Talk To The Trees
• I Wanna Be A Producer
• I Want To Go To Hollywood
• I Whistle A Happy Tune
• I Will Never Leave You
• I Wish I Were In Love Again
• I Won't Grow Up
• I Won't Send Roses
• I Wonder What The King Is Doing Tonight
• I'd Do Anything
• I'd Give My Life For You
• I'd Rather Be Right
• I'll Be Seeing You
• I'll Be There
• I'll Build A Stairway To Paradise
• I'll Follow My Secret Heart
• I'll Know
• I'll Never Fall In Love Again
• I'll Never Say No
• I'm A Brass Band
• I'm All Alone
• I'm Beginning To See The Light
• I'm Flying
• I'm Glad I'm Not Young Anymore
• I'm Gonna Sit Right Down And Write Myself A Letter
• I'm Gonna Wash That Man Right Outa My Hair
• I'm Not That Girl
• I'm Not Wearing Underwear Today
• I'm Still Here
• I'm The Greatest Star
• I've Got Your Number
• I've Gotta Crow
• I've Grown Accustomed To Her Face
• I've Never Been In Love Before
• If Ever I Would Leave You
• If He Walked Into My Life
• If I Can't Love Her
• If I Loved You
• If I Ruled The World
• If I Said I Loved You
• If I Were A Bell
• If I Were A Man
• If I Were A Rich Man
• If My Friends Could See Me Now
• If Only (Quartet)
• If This Isn't Love
• If You Could See Her
• If You Really Knew Me
• If You Were Gay
• Impossible
• The Impossible Dream (The Quest)
• In Buddy's Eyes
• In My Life
• In My Own Little Corner
• Is You Is, Or Is You Ain't (Ma' Baby)
• It Don't Mean A Thing (If It Ain't Got That Swing)
• It Hurts Me
• It Might As Well Be Spring
• It Never Entered My Mind
• It Never Was You
• It Only Takes A Moment
• It Takes Two
• It Was Written In The Stars
• It's A Business
• It's A Grand Night For Singing
• It's A Lovely Day Today
• It's All Right With Me
• It's De-Lovely
• It's Not Where You Start
• It's The Hard-Knock Life
• It's Today
J
• Jailhouse Rock
• Jeanette's Showbiz Number
• Joey, Joey, Joey
• Johnny One Note
• The Joint Is Jumpin'
• The Journey To The Heavyside Layer
• Juke Box Saturday Night
• June Is Bustin' Out All Over
• Just Go To The Movies
• Just In Time
• Just The Way You Are
• Just You Wait
K
• Kansas City
• Kids!
• King Herod's Song
• Kiss Of The Spider Woman
• Kiss The Girl
L
• L.A. Blues
• La Cage Aux Folles
• La Vie Boheme
• The Lady Is A Tramp
• Lambeth Walk
• The Last Night Of The World
• The Last Supper
• Lazy Afternoon
• Leaning On A Lamp Post
• Left Behind
• Let It Go
• Let Me Entertain You
• Let Yourself Go
• Let's Go Fly A Kite
• Let's Hang On
• Let's Have Another Cup Of Coffee
• Let's Hear It For The Boy
• Let's Not Talk About Love
• Let's Take An Old-Fashioned Walk
• Lida Rose
• Life Is Just A Bowl Of Cherries
• Life Upon The Wicked Stage
• Light At The End Of The Tunnel
• The Light In The Piazza
• Light Of The World
• Listen To Your Heart
• A Little Bit In Love
• A Little Fall Of Rain
• Little Girl Blue
• Little Girls
• Little Hands
• Little Lamb
• A Little Less Conversation
• The Little Things You Do Together
• Living In The Shadows
• The Lonely Goatherd
• Long Before I Knew You
• The Longest Time
• Look Around
• Look For The Silver Lining
• Look To The Rainbow
• Losing My Mind
• Lost In The Stars
• A Lot Of Livin' To Do
• Love Changes Everything
• Love Makes Such Fools Of Us All
• Love Makes The World Go Round
• Love Potion Number 9
• Love To Me
• Love, Look Away
• Lovely
• A Lovely Night
• Lovers On Christmas Eve
• Luck Be A Lady
• Lucky In Love
M
• Mad About The Boy
• Make Believe
• Make Someone Happy
• Make Up My Heart
• Makin' Whoopee!
• Mama, A Rainbow
• Mama, I'm A Big Girl Now
• Mama, Look Sharp
• Mama Who Bore Me
• Mame
• Mamma Mia
• Man
• Man Of La Mancha (I, Don Quixote)
• Manhattan
• Many A New Day
• The March Of The Siamese Children
• Maria
• Married (Heiraten)
• Mary's A Grand Old Name
• Masquerade
• Master Of The House
• Matchmaker
• Maybe
• Maybe This Time
• Me And My Girl
• Meadowlark
• Mein Herr
• Memory
• Milk And Honey
• Mine
• Miracle Of Miracles
• Miss Marmelstein
• Mood Indigo
• Moon-Faced, Starry-Eyed
• Moonfall
• More I Cannot Wish You
• More Than A Woman
• The Most Beautiful Girl In The World
• Mountain Greenery
• Movin' Out (Anthony's Song)
• Mr. Mistoffelees
• Muddy Water
• The Music And The Mirror
• The Music Of The Night
• The Music That Makes Me Dance
• Mutual Admiration Society
• My Best Girl (My Best Beau)
• My Cup Runneth Over
• My Darling, My Darling
• My Favorite Things
• My Funny Valentine
• My Heart Belongs To Daddy
• My Heart Stood Still
• My Junk
• My Miss Mary
• My Mother Would Love You
• My New Philosophy
• My Own Best Friend
• My Romance
• My Ship
• My Unknown Someone
N
• The Name Of The Game
• Never Never Land
• Never Will I Marry
• The New Ashmolean Marching Society And Students Conservatory Band
• A New Life
• New Ways To Dream
• The Night They Invented Champagne
• No Man Left For Me
• No Moon
• No Other Love
• No Strings
• Nobody Does It Like Me
• Nothing Can Stop Me Now!
• Nothing Is Too Wonderful To Be True
• Nowadays
• N.Y.C.
O
• O Bless The Lord, My Soul
• Oh, What A Beautiful Mornin'
• Ohio
• Oklahoma
• Ol' Man River
• Old Deuteronomy
• Old Devil Moon
• The Old Gumbie Cat
• On A Clear Day (You Can See Forever)
• On Broadway
• On My Own
• On The Street Where You Live
• On This Night Of A Thousand Stars
• Once In A Lifetime
• Once In Love With Amy
• Once You Lose Your Heart
• One
• One Boy (Girl)
• One Day More
• One More Beautiful Song
• One More Kiss
• One Night In Bangkok
• One Of The Boys
• One Song Glory
• One Track Mind
• Only A Rose
• The Only Home I Know
• Only Love
• Only You
• An Ordinary Couple
• Other Pleasures
• The Other Side Of The Tracks
• Our Language Of Love
• Our Private World
• Out Of My Dreams
• Out Of This World
P
• Paris By Night
• Part Of Your World
• The Party's Over
• Peas In A Pod
• People
• People Will Say We're In Love
• The Perfect Nanny
• The Phantom Of The Opera
• Pilate's Dream
• Pine Cones And Holly Berries
• Please Send Me Someone
• The Point Of No Return
• Politics And Poker
• Poor Everybody Else
• Popular
• Prepare Ye (The Way Of The Lord)
• A Pretty Girl Is Like A Melody
• Prima Donna
• Prisoners Of Love (Leo & Max)
• Promises, Promises
• Push Da Button
• Push De Button
• Put On A Happy Face
• Put On Your Sunday Clothes
Q
• A Quiet Girl
R
• The Rain In Spain
• Razzle Dazzle
• The Real American Folk Song (Is A Rag)
• Real Live Girl
• Rent
• Rhode Island Is Famous For You
• Ribbons Down My Back
• Ridin' High
• River In The Rain
• The River Of Dreams
• Rock-A-Bye Your Baby With A Dixie Melody
• A Room With A View
• Rosie
• Roxie
• Run, Freedom, Run!
S
• S.O.S.
• Sabbath Prayer
• Sadie, Sadie
• The Saga Of Jenny
• Satin Doll
• Seasons Of Love
• A Secretary Is Not A Toy
• Seeing Is Believing
• Seeing Things
• Sentimental Me
• September Song
• Seventy Six Trombones
• Shadowland
• Shakalaka Baby
• Shall We Dance?
• Shalom
• She Loves Me
• She (He) Touched Me
• She's Got A Way
• She's In Love
• Sherry
• Show Me
• Show Off
• Show People
• Side By Side By Side
• Simple
• The Simple Joys Of Maidenhood
• Simple Little Things
• Sing For Your Supper
• Sit Down You're Rockin' The Boat
• Sixteen Going On Seventeen
• Slaughter On Tenth Avenue
• A Sleepin' Bee
• Small World
• Smoke Gets In Your Eyes
• So Far
• So In Love
• So Long, Farewell
• So Much To Do In New York
• Some Enchanted Evening
• Some People
• Somebody Gonna Love You
• Somebody Loves Me
• Somebody's Eyes
• Somebody, Somewhere
• Someday I'll Find You
• Someone Else's Story
• Someone Is Waiting
• Someone Like You
• Someone Nice Like You
• Something For The Boys
• Something Good
• Something To Do With Spring
• Something Wonderful
• Sometimes A Day Goes By
• Son Of Man
• The Song Is You
• The Song Of Purple Summer
• Song On The Sand (La Da Da Da)
• The Song That Goes Like This
• Soon It's Gonna Rain
• Sophisticated Lady
• Sorry - Grateful
• The Sound Of Music
• Speak Low
• A Spoonful Of Sugar
• Springtime For Hitler
• Standing On The Corner
• Starlight Express
• Stars
• Stay With Me
• Stayin' Alive
• Stepsisters' Lament
• Still
• Still Hurting
• Strange Music
• Stranger In Paradise
• Strangers Like Me
• Summer Nights
• Sun And Moon
• Sunday
• Sunny Side Up
• Sunrise, Sunset
• Supercalifragilisticexpialidocious
• Superstar
• Supper Time
• Surrender
• The Surrey With The Fringe On Top
• The Sweetest Sounds
T
• Take A Chance On Me
• Take Back Your Mink
• Take Me As I Am
• Take Me Or Leave Me
• Take That Look Off Your Face
• The Telephone Hour
• Tell Her I Love Her
• Tell Me On A Sunday
• Ten Cents A Dance
• Ten Minutes Ago
• Thank Heaven For Little Girls
• That Face
• There Are Worse Things I Could Do
• There Is Nothin' Like A Dame
• There's A Fine, Fine Line
• There's A Great Day Coming Manana
• There's A Small Hotel
• There's A Sucker Born Ev'ry Minute
• There's Gotta Be Something Better Than This
• There's No Business Like Show Business
• They Call The Wind Maria
• They Didn't Believe Me
• They Live In You
• They Say It's Wonderful
• They Were You
• They're Playing My Song
• Think Of Me
• This Can't Be Love
• This Is The Moment
• This Nearly Was Mine
• Thoroughly Modern Millie
• Those Canaan Days
• Thou Swell
• 'Til Him
• 'Til Tomorrow
• Till The Clouds Roll By
• Till There Was You
• Time Heals Everything
• To Keep My Love Alive
• To Life
• Together
• Together Again
• Together Forever
• Together Wherever We Go
• Tomorrow
• Tomorrow Belongs To Me
• Tonight At Eight
• Too Beautiful For Words
• Too Close For Comfort
• Too Darn Hot
• Too Much In Love To Care
• Tradition
• Transylvania Mania
• Triplets
• Try To Remember
• Turn Back, O Man
• Twin Soliloquies (This Is How It Feels)
• Two Cigarettes In The Dark
• Two Ladies
• Two Worlds
U
• Under The Sea
• Unexpected Song
• Unusual Way
• Uptown Girl
V
• The Varsity Drag
• Vilia
• Violets And Silverbells
W
• The Wages Of Sin
• Wait Till You See Her
• Waitin' For The Light To Shine
• Walk Like A Man
• Wand'rin' Star
• We Go Together
• We Had A Dream
• We Kiss In A Shadow
• We Need A Little Christmas
• Welcome To The 60's
• Well, Did You Evah?
• The Wells Fargo Wagon
• What Did I Have That I Don't Have?
• What Good Would The Moon Be?
• What I Did For Love
• What Kind Of Fool Am I?
• What Kind Of Man
• What'll I Do?
• What's The Use Of Wond'rin'
• Whatever Happened To My Part?
• When Did I Fall In Love
• When I'm Not Near The Girl I Love
• When You Got It, Flaunt It
• When You're Good To Mama
• Where Am I Going
• Where Do I Go From Here
• Where Is Love?
• Where Is The Life That Late I Led?
• Where Or When
• Where Was I When They Passed Out The Luck?
• Whispering
• Who Am I?
• Who Can I Turn To (When Nobody Needs Me)
• Who Will Buy?
• Who Will Love Me As I Am?
• Who?
• Why Can't You Behave?
• Why Did I Choose You?
• Why Do I Love You?
• Why God Why?
• Why Was I Born?
• Will He Like Me?
• Will You?
• Willkommen
• Wish You Were Here
• Wishing You Were Somehow Here Again
• With A Little Bit Of Luck
• With A Song In My Heart
• With Every Breath I Take
• With One Look
• Without Love
• Without Me
• Without You
• The Wizard And I
• Woman
• Wonderful
• A Wonderful Day Like Today
• A Wonderful Guy
• The Word Of Your Body
• Worlds Apart
• Wouldn't It Be Loverly
• Written In The Stars
• The Wrong Note Rag
• Wunderbar
Y
• Ya Got Trouble
• Yankee Doodle Boy
• Yesterdays
• You Are Beautiful
• You Are Love
• You Are Woman, I Am Man
• You Better Go Now
• You Can't Get To Heaven
• You Can't Stop The Beat
• You Could Drive A Person Crazy
• You Don't Know This Man
• You Must Love Me
• You Mustn't Kick It Around
• You Rule My World
• You Should Be Loved
• You Took Advantage Of Me
• You Walk With Me
• You'll Be In My Heart
• You'll Never Get Away From Me
• You'll Never Walk Alone
• You're A Grand Old Flag
• (I Wonder Why?) You're Just In Love
• You're Never Fully Dressed Without A Smile
• You're The Cream In My Coffee
• You've Come Home
• You've Got To Be Carefully Taught
• Young And Foolish
• Younger Than Springtime
• Your Eyes
Z
• Zip
• Zorba Theme (Life Is)